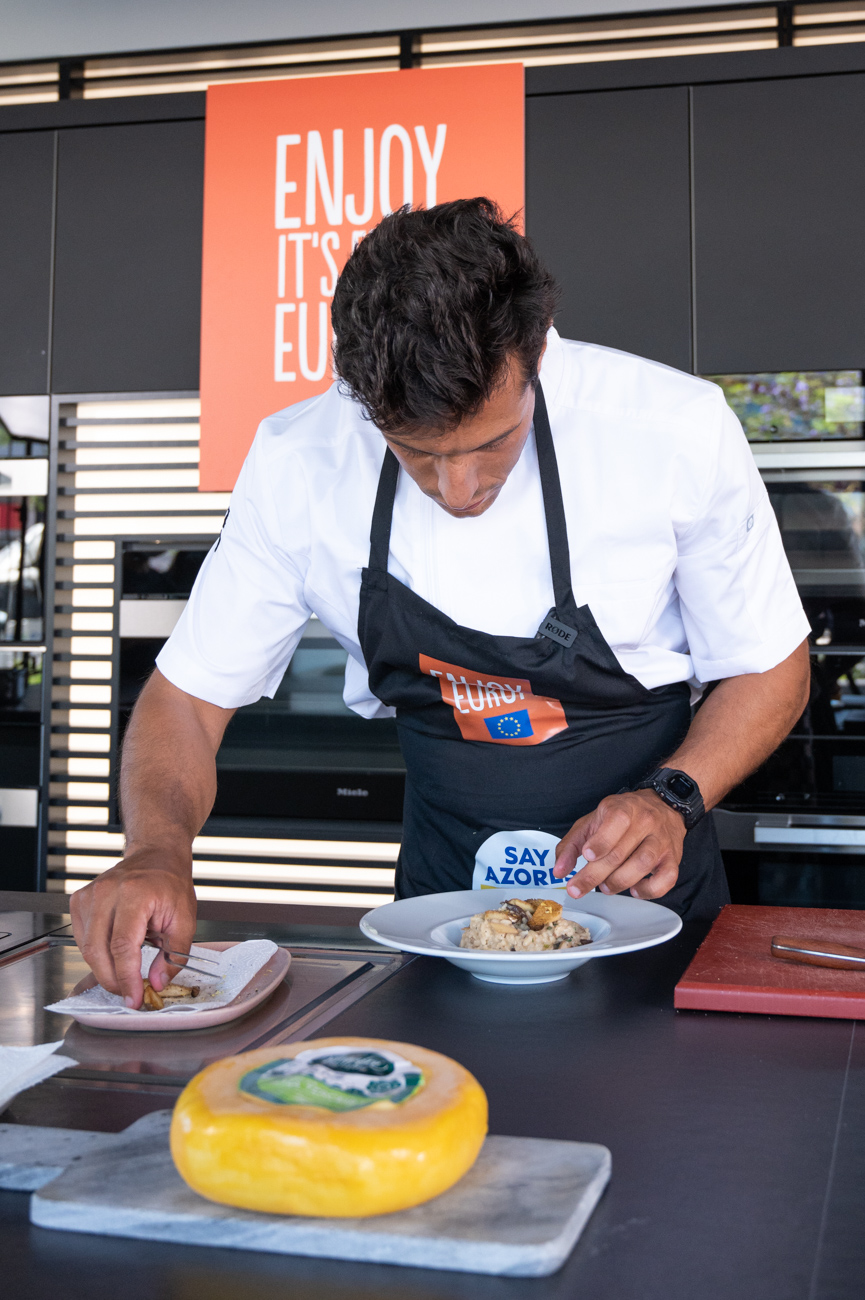 10 Nov

Creamy mushroom rice with Milhafre cheese

The cold is here ☃️ and there's nothing like a warm, creamy and flavourful recipe to cozy up to! 🧑🏻‍🍳
In this 4th episode of #cooklikeachef – Chef Carlos Afonso brings us a recipe so delicious that it becomes impossible not to try to make it at home: Creamy mushroom rice with azores prato cheese – Milhafre! 🧀

You will need:

For the broth:
1 clove of garlic
0.18 oz butter
5.3 0z mushrooms
5.3 oz onion
1 clove of garlic
1 bay leaf
0.04 oz black pepper
0.04 oz coriander seed
For the rice:
1 clove of garlic
0.5 oz minced onion
0.18 oz minced garlic
0.18 oz butter
1.4 oz prato cheese
3.5 oz Carolino rice
0.9 São Miguel cheese 12 months
0.04 oz chopped chives
1 splash of vinegar
2.8 oz laminated shiitake mushroom
0.18 oz dried shiitake mushroom
7 oz mushroom stock
0.11 fl oz Extra virgin unfiltered olive oil
1 bay leaf
1 lemon
Salt to taste
Ground black pepper to taste
Preparation:
For the broth:
Prepare and peel the mushrooms, separate the stems from the heads and reserve for stock.
Add the mushroom stems, half an onion, the bay leaf, the 0.18 oz of shiitake mushroom and let them sauté on low heat with a knob of butter and a crushed garlic clove. Refresh with white wine, add water and let it boil, cook for 45 min and set aside.
For the rice:
In a pot, sauté the onion in the butter, the bay leaf, then add the rice, cool with white wine, and slowly add the stock little by little, keep stirring regularly so that the rice loses its starch and gains a creamy consistency.
Separately in a frying pan, drizzle the bottom with good quality virgin olive oil and add the finely chopped shiitake mushrooms and a crushed garlic clove. Sauté the mushrooms, refreshing with lemon juice and adding the chopped chives. Season with salt and pepper.
Then add the sautéed mushrooms to the rice, rectify all the seasonings, and finish the rice with a spoonful of soft prato cheese and the butter.
Plating:
Arrange the rice in a deep dish, garnish with coriander leaves, chives, and ilha cheese chips, and a drizzle of olive oil.
You can also check the full recipe on the video below: